Class "A" Teaching Professional
Riverview Golf Course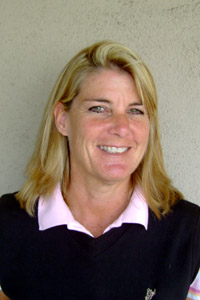 KRIS OLSEN is one of Southern California's highly sought after LPGA Class "A" golf instructors. With 20 years of playing and teaching experience, Kris has developed a teaching style that puts each student at ease, yet gets results based on each person's individual swing needs.
Kris is also an author, Girl's Golf Coach at Connelly High School, and Women's Golf Coach at Santa Ana College.

"Improving your game…one fundamental at a time"

Stressing fundamentals to build a solid foundation, Kris helps the student to fashion a repeatable, consistent swing. And with consistency comes confidence. Incorporating drills and video to further enhance the learning process, Kris helps to create a positive learning experience for each student.

"Don't look for big, quick improvements. Look for the little improvements one day at a time. That's the only way change happens. And when it happens...it lasts"
John Wooden
Kris played for Cal State Fullerton, then on to the Futures Tour, after which she started teaching full time, first at Rancho San Juaquin Golf Course in Irvine, followed by 10 years at Old Ranch Country Club in Seal Beach California, and then 6 years as Assistant Director of Instruction at Northwood Golf Center in Irvine, California.



"Working personally with Hank Haney (one of Golf Digest's Top 10 golf instuctors, and currently working with Tiger Woods) on my golf swing and game when he was at Sweetwater in Houston, Texas was a big part of my learning process." Kris also has been influenced by John Jacobs, Jim Hardy, Ben Hogan, Jimmy Ballard, David Leadbetter, Harvey Penick, and Rick Smith, as well as personally working with local teaching pro's Ray Carrasco PGA Tour, and Betty Burfeindt LPGA Tour.

Kris says, "I have learned so much about the golf swing and teaching it by so many great instructors of the game from watching them teach and play, as well as reading what they have written. Their influence, along with years of teaching and giving thousands of lessons has helped me develop my style."
Kris also uses computer swing analysis technology to help accelerate the learning process, taking each player's game to the next level with greater comprehension and retention. Comparing the correct motion of a tour pro, with the swing motion of the student side by side at the same time creates a clearer picture of "Correct." A swing file is kept for each student, and progress can be visually tracked over time. Kris says, "Video is such an important part of creating proper understanding, and therefore quicker swing changes for the student. It's also just a fun way to learn."

Kris has a passion for teaching golf, and would love to help you develop your game to it's fullest potential. She can be reached at: